Shadow Heroes.
In these difficult times of Pandemic, Wwire offers you a series of portraits of women who are often overlooked but who have nevertheless achieved great things for the world today.
These women, often unrecognized and poorly publicized, sought only one thing, to help their neighbor.
Good reading.
Geneviève Chêne, at the service of public health
Appointed at the end of 2019 Director General of Public Health France, Professor Chêne illustrates these exemplary trajectories, not very publicized, of scientists wanting above all to serve.
625 agents, a budget of around 200 M €: such is the National Public Health Agency, an establishment under the supervision of the Ministry of Solidarity and Health. Its function: to improve and protect the health of populations, a mission articulated around three major axes: anticipate, understand and act .
Three verbs that correspond perfectly to the new director of the structure created in 2016.
The entire professional career of this scientist reflects this triple will, from her medical thesis in 1990 ( Nosocomial urinary tract infections in an intensive care unit: epidemiology, cost, prevention ) to her doctoral thesis in biological and medical sciences in 1996 ( Therapeutic trials for the prevention of opportunistic infections during HIV infection: concerning a trial for the primary prevention of toxoplasmosis ).
Recently, an intervention at France Info (19/03) made it possible to hear the voice of this scientist so discreet that neither the press, nor the social networks find grain to grind concerning her. She intervened logically on behalf of the agency she manages and its health watch vis-à-vis the Covid-19, emphasizing the importance of confinement in view of the experiences of other countries – recognizing in passing the underestimation the number of cases.
Woman of action, of files, no "media spots"
Apart from this interview, Ms. me Chêne seems to be the antipodes of these personalities who count with satisfaction their passages in the media.
His reserve would probably not want too much light? You just have to run your course, a CV like yours without comments.
Professor of universities since 1999 (biostatistics and public health), author of numerous publications, she was head of the public health pole at the CHU de Bordeaux from 2011 to 2019, "a set of services and units which include around 350 nursing staff and administrative covering all areas of public health. "
Geneviève Chêne also served as director of the Institute of Public Health, Epidemiology and Development (ISPED) from 2017 to 2019. "ISPED is an institute with around 100 staff, more than 60 teachers in public health. It is a critical mass which is unique in France and which is positioned among the best schools of public health in Europe. I have engaged this institute in an international accreditation process, "she recalls.
ISPED was a remarkable prerequisite for his current position, without counting his experience in the Committee of Elders for the preparation of the national health strategy 2013-2017, then in the management of the INSERM Public Health Institute and of the Public Health Research Institute for three years, between 2014 and 2017.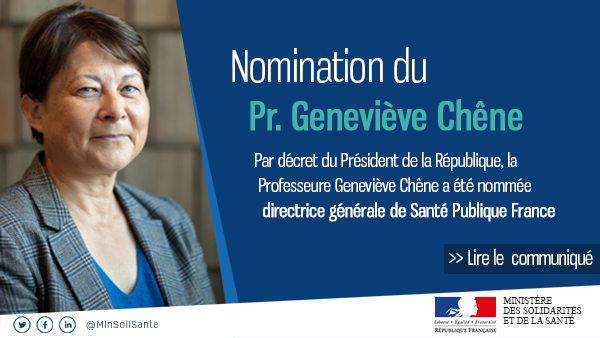 Accumulation of skills
This impressive combination, Geneviève Chêne sums it up in a sober sentence: "It has given me a solid experience in the design and implementation of a national public health research strategy. "
And beyond, internationally: it is convinced that "there is added value to cooperation and the sharing of concrete tools", as she recalled during the conference given for the EU -JAV (European Joint Action on Vaccination) of which she is coordinator.
His personal life? Absolutely nothing filters it in the media. It is in his image: a comely face, smiling, however steel eyes.
We will leave Professor Chêne with this last word: "My culture is to be judged on its knowledge, by my peers. "
Thank you .